Nowadays it is all about social and mobile. Over 600 million people have a Facebook account, millions of people are using foursquare or Facebook places to let others know where they are.
The next logical step is to let everybody know where we are right now on the slope, if we are in a bar or still skiing.
Since a few years are a few applications around for smart phones to track your speed the slopes you have been or to post your friends where you are.
But now with Facebook places there will come a change. We won't need a phone anymore for letting others know what we are doing.
Snow resorts will have in the future on their ski pass an RFID chip and when you buy a pass you will be able to submit your Facebook handle.
Your position will be transmitted to facebook, whenever you take a lift, cross a check point or go into a restaurant on the resort.
All your friends can instantly see where you are on their phone or computer to meet you or just to wish to be with you.
Brands and resorts will build Facebook pages around this data and might have cameras installed or live video streams that your friends can try to find you.
But this does not stop for skiing. Even big concerts and events could use this technology to get even consumers to attend the event without being there.
This could be a big marketing wheel to bind consumers to brands.
Some brands are already experimenting with phone less checkins.
For instance, under a program at the Coca-Cola Amusement Park in Israel last summer (2010), visitors were able to update their Facebook statuses via their RFID-enabled bracelets. According to All Facebook, the program netted more than 35,000 updates each day of the program even though the village only hosts 650 teens at a time.
Shoe brand Asics let friends and family members send individualized messages to runners in the New York Marathon via Facebook. When a runner's tag was recognized by an RFID reader, the message ran on a video screen.
Vail Resorts last fall launched a platform where skiers could post the amount of vertical feet they traveled on their Facebook profiles.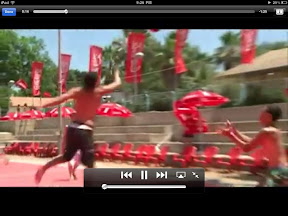 After internet came mobile phones, then social. Today we are in mobile with mobile devices, tomorrow we are mobile without mobile device.
- Posted using BlogPress, please follow me on twitter @schlotz69