Dear New York Times,
I am a NYT reader since I moved to the US in 2004. My job requires that I travel a lot and always i enjoyed reading the NYT during my flight or in the hotel, which offered me always a free print version.
Sometimes i bought the NYT at the kiosk when I did not get the NYT in the hotel.
The print version was always a class by itself. Good articles and great pictures.
Last year I got excited when I found the NYT editor choice in the iPad app store. I installed the app and started to read it every morning. I did not mind that it was only a subset of the full NYT. But when I heard that the full NYT would be available for the iPad, i got even more excited.
I did read till 3.29.2011 every day the NYT. The app did regularly crash and many times I had to reinstall the app to get it running. It was no pleasure but acceptable for a free publication.
Since two weeks the NYT is not anymore free of charge. I decided to pay for it, because I did want to keep the NYT as one of my favorite news. However the price is not only very high, much higher than other newspapers on the iPad, it is even not acceptable. Your application is still crashing and more disappointing is that many articles are just empty (see images below). Whoever is in charge with the content for this app does a really bad job. There are many articles which are talking about a video or image which is not shown in the app. I need always to send me the link to the web page to get the pleasure of mentioned video or picture.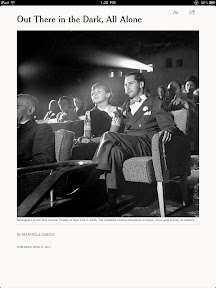 And I am not the only one. The frustration of the quality of your app have many readers. When I look at my blog statistics then I find my blog about NYT crashes to be read 30% of all my blog entries and I have over 300 blogs. NYT is clear the most visited page on my blog.
Since two weeks I also recognized that your technology section lost in quality and updates. Unfortunately this is the section I read the most. Did you let your technology chief editor go? If so, please get him back or at least find a good replacement.
I paid a lot of money for something which is half of the time not working and more ads showing up when reading articles. Do you really expect we pay for something which gets full of ads and does not work well? Are you inclined to redeem your customers for bad service, or are we for you just an income source and you don't care what we readers think about the NYT?
Respectful, a reader who wants quality.
Note:
this letter went on 4.10.2011 to letters@nytimes.com. I will let everybody know what their answer was.
If you feel like me, then post this letter everywhere you can. Let everybody know. As group we can make things better.
- Posted using BlogPress, please follow me on twitter @schlotz69