MySpace
was once the Internet's equivalent of the hottest nightclub in town. In its heyday, the world's dominant social network attracted some 3 million bands, 8,000 comedians and countless filmmakers and wannabes who came to see and be seen.
But even before this, myspace was the leading social network. All my friends inclusion me have been first at my space before joining Facebook. But we all stopped using myspace because it was too busy and after a while just ugly. It felt like social spam portal. But maybe it is no wonder, hence the founders (Chris deWolfe, Tom Anderson) got their start at Intermix (formerly eUniverse) where they worked on a series of profitable internet ventures. eUniverse made money running spyware and spam operations, as well as selling subscription skin medication, made famous by its "Better than Botox?" ads. eUniverse was a Los Angeles-based Internet marketing company. It was opened in 1998. In April 2005 New York State attorney-general Eliot Spitzer filed a lawsuit that alleged that the company is the source of secretly installed spyware that has illegally sent pop-up advertisements and other intrusions to millions of computer users.
In 2005 myspace was number one SNS
MySpace.com
Nov. 2004: 4.9 million
Nov. 2005: 26.7 million
Facebook.com
Nov. 2004: N/A
Nov. 2005: 11.1 million
Friendster.com
Nov. 2004: 966,000
Nov. 2005: 1.5 million
And still leading in 2008
1 Myspace.com 59,352 1%
2 Facebook 39,003 116%
3 Classmates Online 17,075 28%
4 LinkedIn 11,924 193%
Source: The Nielsen Company, Custom Analysis (September 2008).
But already in 2008 the falling trend started with myspace, which only grew 1% to the year before.
NewsCorp bought in 2009 myspace for around $580 million and reduced the workforce by 50%. Myspace got an overhaul but all this did not help.
Now, MySpace is seemingly no place — a digital castoff that corporate parent News Corp. [NWS] sold for $35 million in cash and equity to an Orange Country, Calif., digital media firm specializing in online advertising. That's a fraction of the $580 million that the media giant controlled by Rupert Murdoch paid to acquire the site a scant six years ago, and well shy of its one-time $65 billion valuation.
But maybe Justin Timberlake (who has a now a stake in MySpace) can bring the portal alive again.
MySpace has 35 million users and got sold to Specific Media basically for $1 per member. This is pretty low. Which would put the value of Facebook to just $800 million.
But to be serious, in less than 3 years myspace went from a potential $30 billion company down to $35 million and lost users and traffic as much as almost no other company in such short time.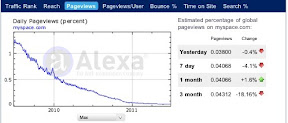 As much hype Facebook has today, as fast Facebook can decline and lose value like myspace if they are not careful.
Below are some screenshots from myspace over the years. The last one is from today.
2003
2006
2008
2011
All pictures from the Internet archive
archive.org
.
- Posted using BlogPress, please follow me on twitter @schlotz69