We have been in St Augustine last weekend, and besides that I was happy not to be addicted to my electronic gadgets, I missed something which would have been really cool.
St. Augustine is a city in the northeast section of Florida and the county seat of St. Johns County, Florida, United States. Founded in 1565 by Spanish explorer and admiral Pedro Menéndez de Avilés, it is the oldest continuously occupied European-established city and port in the continental United States.
When you walk through the oldest American city main street (St George Street) then it is hard to imagine how it was back in time.
The houses are still there and some people wearing clothes from the 18th century, but there are so many tourists that you just don't get the feeling how it used to be.
Would it not be nice to have your iPad with you and hold it in front of you and you could see a reenacting of 1794 or 1565. You could walk through the street and see all happening again through your iPad.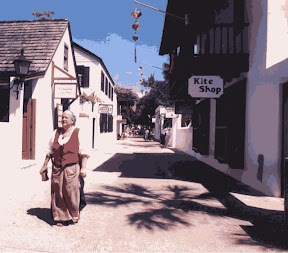 Your iPad could be a time machine. The process would be pretty simple. The city would only need to close St George Street for one day and hire some volunteers to to reenact one day. A camera team would walk the street from north to south and from south to north.
The iPad app could be interactive and the user could touch a house or person on the screen to get more info.
Suddenly a street full of people would be replaced with a few people three hundred years back in time.
I found an interesting AR idea, when I was researching, if there is already an app for this.
Autoglass did produce a video how AR could work in 2020 on windshields. See video below (just click on image - you need flash).
Here is a no flash version.
The concept idea is good but the UI needs in my opinion to change. I watched the movie on my iPhone which is a small screen and I could not follow the traffic because I was concentrated what the screen displays. I thought the issue was the small screen. Therefore I watched it again on my iPad and on my 54 inch screen. All the time the text was distracting for me. Too much to read, the brain needs to long to translate the info.
I like the idea but, if it comes to a product like this, then there should be no text but signs and symbols. Easy symbols which can be easily recognized.
Find out by yourself how easy you can follow the AR. Autoglass did mark pedestrians with a red arrow and bicycles with a red arrow but it was still not easy to recognize. The best part was the broken windshield. The whole lower screen got red, this I instantly saw. But as a driver I might have been scared and hit the break for nothing and then not only my windshield would be broken.
The video is a sign in the right direction and many people are interested in this. The video got within 2 weeks over 100k views.
- Posted using BlogPress, please follow me on twitter @schlotz69