Shares in iPad maker up more than 3% in after-hours trading after the a financial report from Apple.
Surging demand for iPhones and Macintosh computers sparked a 94.8% jump in earnings for the quarter ending in March, Apple reported Wednesday. The news sent Apple shares up more than 3% in after-hours trading.
The Cupertino, California-based reported net income of $6.0 billion, or $6.40 per share, on $24.7 billion in sales compared to net income of $3.3 billion or $3.33 per share, on $13.5 billion in sales during the year-ago period.
Apple reported gross margins for its fiscal second quarter of 41.4%, compared to the 39% analysts polled by Thomson Reuters had been expecting.
Those results easily surpassed of expectations of the consensus earnings per share estimate of $5.35 per share on $23.4 billion in sales compiled by Thomson Reuters.
While iPhone and Macintosh sales were strong, sales of iPods and iPads fell short of some analyst's expectations (see "March Quarter iPhone Sales Up 113% Year-Over-Year; iPod Sales Fall 17%; 4.69 Million iPads Sold" for more detail). In the quarter, the company sold 18.7 million iPhones, 4.7 million iPads, 3.8 million Macs and 9.0 iPods.
"With quarterly revenue growth of 83 percent and profit growth of 95 percent, we're firing on all cylinders," Apple Chief Steve Jobs said in a statement. "We will continue to innovate throughout the remainder of the year."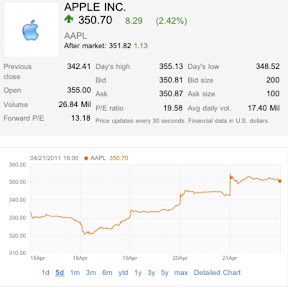 A company which was almost bankrupt in 1998 when Steve Jobs returned to Apple. Today Apple is one of the biggest companies In revenue and is number 1 company as phone manufacture in revenue (Nokia is number 2).
Stock did in 15 year 80 fold. Every quarter Apple is growing more than predicted and stronger than any competition. Microsoft seems now to be a small company in comparison to Apple.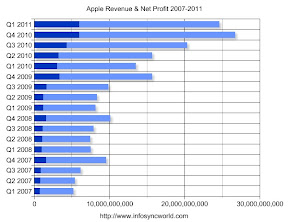 Apple is on steroids since the iPhone and 50% of the revenue comes from the iPhone.
Will Apple ever stop, or just going on like this for the next 10 years. It gets scary. In 2015 will be more mobile devices on the market than PCs. And if Apple keeps going then there might be not much choices other than Apple.
But if a Compnay gets a certain size it might get like an elephant. New innovation will take longer, the quality of the products will go down by releasing too fast new products. The prices will go up when a company has a monopole. The consumer will eventually get frustrated and the company will break down.
Right now is no real competition for Apple on the mobile market. Google has only an OS and the smart phone OS strategy seems not to pay out. Too many versions of Androids are on the market and too many different types of smart phones are using Android. As a result, developers have a hard time to produce qualitative good software. It might run on one device perfect but sucks on the other. The consumer gets which each phone a slightly different OS.
Microsoft has a better OS strategy but no momentum yet. RIM builds the hardware and the OS but is too much concentrated on business than consumer.
How can anybody stop Apple? Do we really want to see in office only Mac computers? Do we want to see companies like Dell, Nokia etc to file bankrupt?
I don't think so, as much as I like Apple I prefer more diversity.
I believe, Apple will stop themselves. In 2013, Apple will have so much market share in mobile, that the regulators will force Apple to split into three companies. Apple hardware, Apple OS and Apple services.
Apple would need to offer there OS for other hardware companies and Apple service must be available for anybody if they run Apple OS or not.
When if comes to this point Apple will lose a lot of market share for hardware and Apple Service will be chased by Amazon and Google.
I don't think that Apple will be in 5 years the same company we know today.
The past showed that going straight up will eventual come down, fast or slowly. This is a physical law. It is not possible only to run on zero gravity. Even in space comes the point of some gravity and if there is no fuel left, then good bye.
I admire Apple and especially Steve Jobs. He might be not the best employer but he is a genius how he made the company big. Sure thousand of people are involved, but at the end he made the right decisions.
Jack Welch once said. "it is harder to keep being Number 1 than being Number 2 and try to get to Number 1". Apple need to redefine themselves very fast to get down from the King chair if they want keep going.
Anybody who has Apple Stock or does want to buy should consider to exit at $520 (today it is $350).
- Posted using BlogPress, please follow me on twitter @schlotz69