How often is twitter down? Every day? Yes I think so. But not only this now I am not able to post any tweets through 3rd parties like google blogger for over two hours.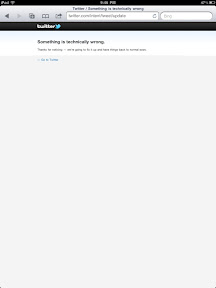 I did find nothing on the twitter blog about this issue. And nothing yet on google search, but interesting that I get over 2 billion results when I search for twitter post not working.
He twitter folks. If you want to be a big player, then get your service under control. Get more hardware or better DBs but don't have so much issues. Why should I ever want to buy stocks from you?
Do you know that many news get less readers when twitter is not working. It impacts not just your website.
- Posted using BlogPress, please follow me on twitter @schlotz69