I am not on job hunt and pretty happy were I am right now. I am now almost three years at my company and not really up to date what are the best websites are to look for a job.
I remember 10 years ago, back in Germany, Monster was the big thing to post your resume and to search for a job.
3 years ago "the ladders" was the right place to go if you want to earn more than $100k a year. I unfortunately have to admit I had no luck with theladders.com. I paid a lot of money for no results and found my job through a headhunter.
If you search in bing for "theladders scam" you get 2.5 million results, this tells a lot.
Last week a friend of mine asked me if I could recommend him a website because he's is on a job hunt. I said linkedin.com. He did not like it, because there were too many IT jobs and too less jobs in Tampa.
Of course under my friends and family I am the designated Internet expert, therefore I made a research and came across of indeed.com.
If the website would not say indeed.com then I would think it is google.
It is amazing how fast the results are coming back, how easy to search, it has even facetted search. Different than all other job searches indeed.com is just like google.com. You only get results and these click away to the company which did post the job. But you can upload your resume and use it through this site.
And because it is only a search engine you can't see for which job you already applied for (I can't be sure because I did not apply for any job).
You can sign into indeed.com using your Facebook account or setting manual a new account up. Under trends you can see where your job is most needed.
I instantly liked indeed.com and was wondering since when they are around and how they are doing. I imagined they should do well because they use same method like Google.com. Companies only pay per click.
I went to
Crunchbase.com:
Indeed did get latest funding 6 years ago in 2005 ($5m). On their website they claim:
Indeed is the #1 job site worldwide, with over 50 million unique visitors and 1 billion job searches per month. Indeed is available in more than 50 countries and 26 languages, covering 94% of global GDP.
They have more traffic than monster, simplyhired, theladders or yahoo jobs.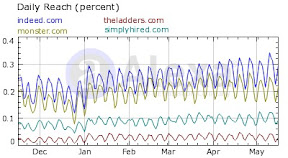 Indeed is a private company and does not disclose their revenue. But it seems to go well, no new funding and no planned IPO yet. And this company is even not based in SV. According to linkedin.com, indeed has at least 234 employees but less than 500.
However the business is growing and they have a lot of open positions.
I think (as well a few others) that indeed.com is one of secret success story. Almost no top management changes since 2004. Founders still on board in active roles. Bigger in traffic than monster and very good revenue model. If it works for google why should it not work for indeed.com.
We should keep an eye on indeed.com and when beginning 2012 the big new hype of Internet IPO starts (or better social IPO), then indeed.com might be one of the companies and if so then they will do very well.
It is fascinating how everybody talks about Facebook, twitter, linkedin, foursquare and many new start ups, but nobody seems to recognize indeed.com which is already 6 years old and eventual makes more money then all of them.
It would be interesting how much revenue per head count they make.
Let us assume indeed.com gets per click in average $4 and every search results in 0.1 click on sponsored links or sponsored jobs. The claim to have 1 billion search results a month.
1billion x 0.1 x $4 x 12 months = $4.8 billion
Almost $5 billion in revenue is surely possible. Keep your eyes and ears open for indeed.com in Stamford.
And my friend is now happy I could help him.
- Posted using BlogPress, please follow me on twitter @schlotz69