Betausb.com reported that the next iPad will have a 3D screen.
iPad 3 has 3D screen - report
Just got iPad 2? Good. So it's time for incessant iPad 3 rumours to commence, then. Here's one for you: It'll have a 3D screen, like the 3DS.

That's according to RCR Wireless, who claims 'Hollywood sources' have revealed that 3D for Apple's next tablet "is a dead cert". Why would Hollywood know? Because it's apparently working on 3D content to release alongside the device.

RCR says this info has been further backed up by several other 'close industry sources' who've apparently been told the same by the typically leaky Taiwanese manufacturer Foxconn.

It seems a little too early for iPad 3 information to start leaking from a manufacturer, especially considering how early in development the iPad 3 might be in Apple's labs - the iPad 2's barely had time to settle in.

I think the idea is great and for gamers a nice extra. Apple is seeing the iPad as a mobile device for business, home and gamers. A 3D screen would make sense.
But did somebody play the Nintendo 3DS? I tried it on Sunday and it was horrible. I had to switch the 3D off because I got dizzy. The Nintendo 3DS has a slider to go from 2D to 3D very smooth. I tried many positions of the slider and distance to my eyes. I could not find any position or setting to feel comfortable with the 3D settings.
I believe the screen is just too small, it was similar like these flicker cards from the 90es, with a comic figure on it, and depending how you hold the card the figure changes. Do you remember how it sometimes flickered between the images because you are just in the wrong position to the card?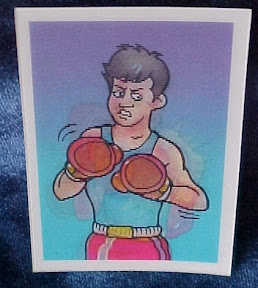 (
Pictures from showbizpizaa.com
)
Same with Nintendo 3DS. No wonder that Nintendo needed a disclaimer that the 3D screen is not for toddlers. If I have problems and get a headache, then for sure kids will.
3D screens without the need of goggles are new and pretty expensive.
Sharp, who does develop the Nintendo 3DS screen has as well a 10 inch screen.
I am sure I would have less issues on a 10 inch screen. But even if the technology is already in testing since two years (Hitachi started in 2009), the costs are still high. To build the 3D screen for Nintendo costs $26 and is only 3.53 inches (3.02 inches wide, 1.81 inches high) with 800 x 240 pixel resolution. 400 pixels are allocated to each eye to enable 3D viewing.
The iPad screen is 9.7-inch (diagonal) with 1024-by-768-pixel resolution at 132 pixels per inch (ppi). This is almost 8 times of the size of the Nintendo screen.
The resolution for 3D must be double in both direction to allow users to turn the iPad. This means the screen would need to have 2048x1536(retina display?).
Not that I don't want to have a 3D display, but we can assume that the production costs will be at least $120 more than the iPad 2.
The iPad 2 production costs are already high with $330 (for the 32GB 3G model):
Display/Touch Screen - $127
Memory 32GB model - $65
Enclosure - $35
Battery - $25
Baseband/RF/PA $18.70 for AT&T model, $16.35 for Verizon
Application Processor (A5) - $14
User Interface - $11.90 (Gyro, Accel, Compass, Ambient light)
Camera - $4.30
These prices do not include any of Apple's overhead (iOS 4.3 support, Apple Store Genius Bar, etc) or margin provided to AT&T or Verizon.
(source
tabletdudes.com
)
With 3D, the screen would go up to $225, the battery would be a little more expensive to ensure still long battery life and the graphic chip price would go up.
This would lower the margin extremely, if Apple would want to keep same price than existing iPad.
The iPad 2 costs already went up by 10% in comparison to the first model (iSuppli estimated material and production costs for the various iPad models range from $229.35 for the cheapest to $346.15 for the most expensive).
I think a 3D screen might not be included in the next generation of the iPad, If Apple did not do a special deal with Sharp and did not buy the whole 3D market, or if Apple did not invent a 3D screen using the existing screen they already have (just software based). And I think given the 3D technology today, that neither the iPod or iPhone should have a 3D screen. Their screens are just too small.
Conclusion:
3D screen on iPad - yes but only if user can decide to have 3D or not, and if the price is right. And Apple needs to find a way that kids eyes are not in danger.
- Posted using BlogPress, please follow me on twitter @schlotz69