A few months ago I wrote in a blog that Facebook problem is, that they have only one business.
I have to admit this is not true. Facebook made since then a lot of small changes but extend their business extremely.
1. Places
Places is slowly but strong putting foursquare out of business and involved in the last few months. Places supports now events and deals.
2. Deals
Deals actually is a big competition to livingsocial and Groupon. Groupon as the biggest social coupon company has less than 70M and LivingSocial 29M users. Facebook has over 600M.
To get the program started, Facebook has enlisted 11 companies that already supply deals elsewhere. Restaurant reservation service OpenTable will broadcast offers for local eateries, while online ticket seller Viagogo will market events.
Not all offers involve discounts. Some are experiences people may not otherwise have access to, such as a backstage pass to Austin City Limits concerts, a tour of the Dallas Cowboys' new stadium, or a children's sleepover at the California Academy of Sciences in San Francisco with live-snake demos.
In some cases, you'll get a "friend bonus" — an additional discount — if at least one other person in your social network buys a deal.
3. Email (messages)
Facebook introduced a while ago username@Facebook.com email addresses. Since two weeks FB is forcing piece by piece their members to sign up for these emails. FB would be the biggest email provider and service in the world. A clear shot against google. There are approximate 200M gmail users. A third than FB members.
FB introduced this week the send button to get the email system very fast running.
How It Works
The Send button is a social plugin that websites can use to let people send a link to a friend through Facebook Messages, post it to a Group, or email it to an individual. For example, if you see a Mother's Day gift idea on 1-800-Flowers.com, you can now send a message or email to your family members to discuss. Or say you're training for a marathon and you come across a great article about running shoes on The Huffington Post. Now you can share it with your entire running group in just one click.
The Send button drives traffic by letting users send a link and a short message to the people that would be most interested. They don't need to leave the web page they're on or fill out a long, annoying form. Compared to the alternatives, the Send button has fewer required steps, and it removes the need to look up email addresses by auto-suggesting friends and Groups.
4. Video upload
FB video upload function got a big boost in 2010. Facebook users watched 245 million videos in May 2010 and the growth rate is accelerating as more companies and people upload video to the site. FB is not yet a real competition to YouTube which had 2 Billion views a day in May 2010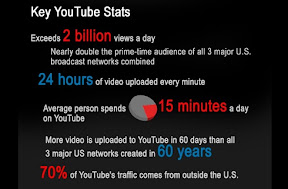 5. Photos
Facebook is the largest photo-sharing site with over 2.5 billion photos uploaded to Facebook each month. In 2009 it was only 850 million.
Facebook is now bigger than flickr.com
6. Questions
Facebook introduced last year questions. Different to google or bong, question is only finding results within FB and answers from users. However these answers might be better results than in classic search engines. Questions might become sometimes a good search engine. Till then FB uses bing to show within FB web results. No need to leave FB to search for something.
7. Groups
Groups is fairly new bit already one of the most used applications or Features in Facebook. Meetup is losing more and more members since FB introduced their free version of groups and meetings.
8. Payments
FB has FB credits and all games must use in the future FB credits for their users wen they want to buy virtual goods within the apps. Credits will be in the future the only currency on Facebook. A clear competition to eBay's paypal.
It will not take long till other e-commerce sites will accepts FB credits as secure payment.
9. Facebook connect
Facebook connect allows 3rd parties to utilize FB logins and like buttons. The like button is basically for companies a rating system. The beauty is that a FB user can see how many of their friends did like certain products. Rating systems like bazaar voice did not grow so fast anymore Since FB introduced the like button which is one year old.
I could go on for hours. Facebook learned their lesson and is introducing almost every week new features to bind their users closer to their portal.
- Posted using BlogPress, please follow me on twitter @schlotz69