I have been last week for business in Manhattan, NY. Tuesday night was a rainy night and cold. I have been not in the mood to get a cap or to walk miles to a bar.
I looked through some websites and apps on my iPad to find a cool bar close to my hotel. Nothing gave me enough appeal to leave the hotel room.
I decided to use Facebook to find a place which is not empty and I could like.
I opened the Facebook app on my iPhone (Facebook has no iPad app yet) and clicked on check in. Instantly a lot of bars showed up.
One did catch my attention, it was Katwalk, a bar only 2 blocks away and they offered a happy hour drink through Facebook as coupon. 2 for 1.
I checked if somebody else did check in and found 5 people, who are also checked into Katwalk, People who are not in my network. This was already a good indicator that the bar might be good. One person had a nice profile image. I decided to go there and actually found this person. I went to the person and said I went to the bar because she was there, shown on Facebook. Instantly we had something to talk and it was kind of fun. I don't think I will meet this person again or befriend with her on Facebook but it was nice not to be alone.
The bar is really nice with two big screens and a lot of TVs to watch sports but at the same time an ambient like a cocktail bar. They serve as well some food. I can recommend the spinach cheese dip with nachos.
I checked in claiming the 2 for 1 drink.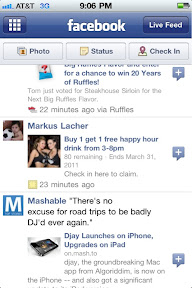 However this claim did not work well out. First of all, Facebook indicated that the coupon is still valid, but I ordered the drink (according to bartender and my watch) at 8:44pm, the bartender was not willing to take the coupon. I had to talk to the manager and finally I got my second drink free. However my total bill was less than $20 and therefore I has to tip more that I could pay with my credit card. I totally forgot that CC are not well seen in NY City (how could I forgot to have cash, I used to work in NY).
At the end I paid same price as I would not have had the second drink free.
I learned two important things. First that Facebook can help to find new people in real live and second that Facebook needs to work on their coupons a little more to compete with Groupon. After a little research I figured out why FB said the coupon is still valid. I have been in NY just a few days after the time change, and supposedly not all FB server did change to correct time.
- Posted using BlogPress, please follow me on twitter @schlotz69