Since today the free NYTimes is over. When you start the NYT you will see on many topics a lock to indicate you have to sign up to read the articles. Each page has on top a banner for signing up. But if you want to sign up to read on your iPad you have to pay $20 a month or if you want to read the NYT on all your devices it is even $35.
Otherwise you have only the top news and 20 article free per month.
Here is the trick. You need to subscribe the print issue 12 weeks for $3.15 a week and then the rest of the year for $6.30 a week, which comes to $289 a year, which is $50 more than subscribing iPad only.
As soon you get your NYT delivered you sell the subscription over eBay. But sell only the delivery address and keep account (important pay the year upfront and cancel after 2 months).
There are people willing to get the home Delivery and have no iPad. You might get on eBay for they year around $180 (at least I got it).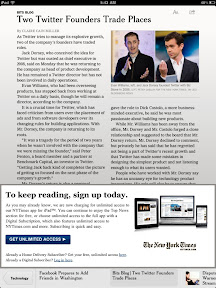 The beauty is as a home delivery subscriber you get free iPad access. I am ending up paying $110 for my iPad access which is less than $10 a month, a price I like to pay.
Other people might have the NYT subscription but no iPad, maybe friends of yours. Ask for their account, they are willing to give it to you.
Or search the internet like craigslist, who is selling their access, which there will be soon a few available in Internet. NYT on phones does not make fun to read.
Overall there are multiple ways to get the NYT for less than $20 a month.
BTW the app crashed today when I clicked on the subscription banner. It is a shame that they charge for an app which crashes all the time.
My blog entry about the NYT crashes is so far the most read article in my blog, this tells a lot.
- Posted using BlogPress, please follow me on twitter @schlotz69