First before i start, I have to admit that i am a big Apple fan, and our household has almost every Apple device (MacBook Pro, iMac 27inch, 2 iPhones 4, 2 iPads, 2 iPod nanos, one old apple TV and one of the new small ones, one Airport extreme and one time capsule). There is not much missing, i believe.
Apple had this year some black friday sales, but to be honest the discount was ridicules low in comparison to other retailers. The iPad gave us some in the 40es saving, the notebooks $100, the iPod nano $11.
We get more savings when we buy the products at macmall.com because we don't need to pay tax.
On Friday, instead going shopping I decided to update my iPhones and iPads to latest OS version. The chaos did start. First the iPad, according to ITunes the update was done, but I could not use my movies on the iPad because it said it is canceling syncing.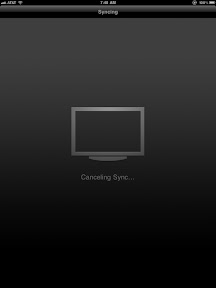 Even reboot of the iPad did not work. Another sync was necessary. Next step was the iPhone. Much more trouble, after updating the software the iPhone did not start anymore. I had to made a hard reset and get into recovery mode. I keep my iTunes always up to date, but this does not mean the iPhone got back in latest status. It did sync everything but i have over 180 apps on my iPhone very nice organized in 12 folders. Of course this part did not work, and i had to spend again two hours to group the apps.
Next i decided to watch some of my movies through my old Apple TV (160GB). I don't sync the movies but somehow the apple TV did not recognize all my movies from the library, or had an alert they will not play on my Apple TV. I had to reboot the Apple TV and to connect and sync again to my iTunes.
It was time to relax and to read some news. For this I chose one of the best rated paper, the New York Times for the iPad.
The NY Times crashes all the time and it did not make fun to read it. I learned when i leave the app when directly in an article and I reopen the app, it crashes when the article is not online anymore. This happens for me with one article that i even could not run the app anymore. I had to delete the application and then reinstall again.
Now it was time to blog about all this. I chose the only blog app for iPad which supports blogspot from google. I had to give up trying to blog, because every 3 second came an alert that it can't find my location.
Bottom line i am getting frustrated with Apple products since Apple is going mainstream. The quality is going down.
The quality of the apps in the app store is many times poor, which is partly Apple's fault, they should do a better job verifying of the applications before giving them to the consumers.
The OS seems to have more of bugs than the first iOS.
My black Friday was black as black it could be.
- Posted using BlogPress from my iPad.
Please visit my blog http://www.new-kid-on-the-blog.com