Google started with their latest social network a couple of months ago and it is already reaching 40 million users. Right now over 80% are male. Facebook on the other side has a slightly higher female user base than males.
Google+ is still beta but every beta user can invite over 150 other people to join google+ as long these people have a gmail account.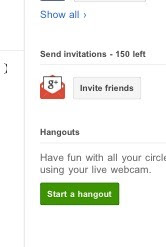 Google+ is of course important for google to be a competition to Facebook and to be in the social market. However one of the most important parts is the social integration into search.
Google is still number one search engine, but it needs to have new features and if possible social features to stay in the first place.
Many search results are for us not always relevant, even if they are maybe based on our location or our surfing behavior. However we users tend to read articles from people we know. Google+ plus gives us this ability.
When you are logged into google plus and you use google to search you will find search results with the content written from google+ users you know.
I searched for "touchpad" and got in the first result page two articles written from google+ members in my circles.
This gives google a big advantage to bing which belongs to Microsoft (Microsoft has investment in Facebook). Same search with bing does not have anything similar as results even if they would be able to show in results FB friends if they are authors to relevant articles.
Both people shown in google are not displayed in bing, even if I am friend with them in FB.
I always said in the past that google has more results than bing, but if I need to find people or social information than bing is better. I think this is changing now with the growth of google+.
Google+ will grow and hopefully get more female users in the mix and not just geeks. But when google+ will reach 100 million in will get again a big growth because suddenly many search results will show the authors names and pictures.
This is for me one of the biggest advantages to Facebook. Facebook is trying to push their search within FB however results are only within Facebook content and will be never a replacement for a real search engine. We want to get results from all websites and not only from FB content.
- Posted using BlogPress from my iPad. Please follow me @schlotz69