AOL released this week an iPad app called Editions. The application is made as a magazine like NYTimes. The look is nice but very busy.
The app is free which was a reason for me to look into it.
Starting the app opens it like a paper magazine on a wooden floor.
The content of the app will not automatically updates. You have to decide when it should be updated.
When you open the cover you have a nice feature. The app shows all your appointments from your iCal calendar, Facebook friends birthdays and some twitter infos if you connected your Facebook and twitter account with editions. However be aware that connecting Facebook will allow AOL to access a lot of your Facebook data.
You can choose what topics you like to read. I chose technology, science, fashion and a few others. The settings are pretty easy by drag and drop. And can be easily changed anytime under settings.
The layout is heavy but not hard on your eyes. It is a pretty made app and somehow similar like NYTimes but more effort put into design to make it more like a print magazine. Therefore it takes time till the app starts and loads all content. It takes around 30 seconds over wifi and multiple minutes over 3G.
Other than the NYTimes, Editions displays articles from many sources like All Things Digital or All Mac.
Besides that the app does need time to load it is as well pretty slow. But the most disappointing part is, that when clicking on one of the articles will open within the app the website the article is posted.
This is pretty disturbing because these webpages have a lot of ads and sometimes flash which can't be displayed on the iPad. It is almost like a combination of SkyGrid and NYTimes. But the most disturbing part is that most of the pages are not iPad optimized. Text is too small etc. At least you are able to magnify the pages.
The only good part is that you can tag each article to get in the future articles which fit better your reading habits.
Because of the slow speed of the app to render you will encounter many crashes, because the app does not like too many clicks around during rendering.
The app allows you to mark articles for later reading or to send an article as email link, post it to Facebook or twitter etc.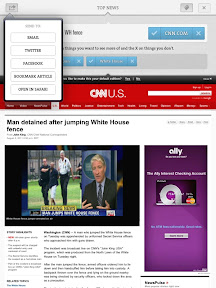 Overall the app is good attempt but not more. It has some nice features but the slow load and slow page changes with the crashes makes the app worse than the NyTimes. And I don't like that the full articles are displayed in original as website.
- Posted using BlogPress, please follow me on twitter @schlotz69