Target
did relaunch last week their website. Target did everything than a good job and will eventually lose a lot of money and customers. Target is one of the biggest competitor to Walmart, but with the new website they did lose the race.
Target worked two years to build the new website, mostly to move away from Amazon who did Target's online operation. Target was trying to make it simpler and easier fro their customers, but this did not work out.
Then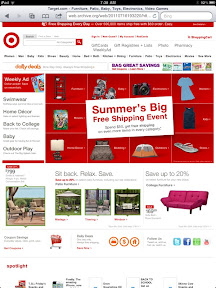 Now: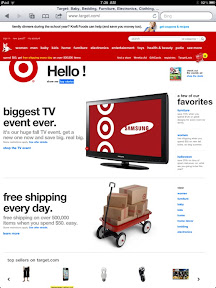 This week when they launched the new website Target.com, I was lucky enough to have an order lost on along with 10,000 other people. Here are some of the comments on their page… no one likes the new site. Their problems are effecting returns, purchases, quantity of available merchandise, account history, registries and coupons. Pretty lame - if you haven't checked it out, hurt your eyes and go to www.target.com .
Amanda Johnson
Your website changes are terrible. I can't access my registry at all >.< Major FAIL.
Mel White
Wondering when you intend to have the website working properly so I can actually do my baby registry? Dosn't work at the store either...
Katie Bean
your new website is terrible! it looks bad and is NOT user friendly!
Ayumi Tomioka
totally, completely, extremely dissatisfied and upset with target new website
Valerie Manke
Your new website is horrible, it doesn't add discounts and it is harder to shop it on a tablet device! What is up with it?
Abbie Rae Menning
So I, as well as many others posting on here, am SO frustrated with the new website and the fact that my wedding shower is a week away and the registry stuff is crap now. And I find it really disappointing to see that Target has stopped responding to peoples posts, or when they do, they tell you to call some number, even though they know you will be on hold for hours. Customer satisfaction is being sucked down to almost non existent, all because a website was launched prematurely.
Nicky Dove
your new webite is the most horrible thing ever!!!!
Shandra Adkison Dean
What is going on with the coupons??? It says the link is no longer available when trying to print them... I'm trying to head out to the store to get some stuff & our Target doesn't have it to where you can print the coupons there! Please get this fixed FAST!!!
Lauren Bell
Please fix the new web structure. It's hard to navigate and it is not working. I can't log into my baby registry and when it says to go to Target Help page, it says that's down.
Alicia VanSloten Barnard
Are you having problems with the coupons on your web page. They aren't printing. =(
Mark Webster
you website suck balls, too much going on keeps freezing, i go to anyother web sit and it is just fine...fix the crap
Xiomy Juarez
why is your new website super slow!?
Candace Knight Milliron
Is there a problem with your couponing page on the website? I keep trying to print two coupons, and I get error messages that the page is no longer available. Thanks!
Talley Spain Williford
Trying so hard to be patient with your new website, but considering I placed an order and it shipped 8 days ago and I cannot search for the order on your website, through the phone system, nor can it by found by your customer service reps I am losing confidence. I never received a tracking number, so I can't track it through the shipper website. I still cannot access any previous orders in addition to this most recent one. Your "contact us" section of the website will not allow any messages to be sent b/c I need to enter "valid questions or comments." My baby registry is inaccessible and this has been going on for like a week now? When will you guys have this straight?
From
WSJ.com
:
Two years in the making, Target.com's new platform is easier to shop, has faster checkout and more closely resembles the store shopping experience, Target Chief Executive Gregg Steinhafel said in an interview.
Target built the site and will handle all related operations. For the past decade, Target outsourced nearly all of its online operations to Amazon.com Inc. The Seattle online retailing giant provided software to run the Target.com website and hosted the sale of Target goods directly through Amazon.com. In addition, Amazon ran the call center and most of the warehouse operations for Target, shipped the products to customers and handled customer service.
When the new website launches, Target will no longer sell its wares on Amazon, a Target spokeswoman said.
Target has room to grow. It is only the 22nd largest Internet retailer in the U.S., with $1.33 billion in sales last year, according to trade publication Internet Retailer. In contrast, Wal-Mart Stores Inc. ranks as the sixth largest Internet retailer with an estimated $4.4 billion in sales. Amazon is No.1, notching $12.95 billion in sales last year.
- Posted using BlogPress from my iPad. Please follow me @schlotz69
Location:N Westshore Blvd,Tampa,United States