If the rumors are right then we will not get a new iPad this year but a new iPhone in October which can be preordered in late September.
Of the news is disappointing and the other is very good.
The iPad 3
I think it is really good news not to bring an iPad 3 this year. Rumors were out that the iPad 3 will be available in September, but honestly two iPads in one year would be too much. The price is much higher than a smart phone and buying two iPads in one year is not cheap. And as we know, always when a new version comes out, Apple is reducing the previous version in price. I would not find it cool to see after 6 months that my iPad is now 20% cheaper. One thing I always liked at Apple was the long product life time and price stability. A new iPad would have not been good. If Apple keeps a 12 months cycle then it is much more likely that the new product will be much better than the previous with more new features. The next iPad should be at least 2 mm thinner, should have retina display and maybe cable less charging. Apple does good not to offer a new iPad this year which has maybe just a faster processor. The time is not right yet. Maybe in a few years where not many new features can easily build in, or when it is not anymore possible to make the iPad lighter or thinner and we are all moved from notebook to iPads, then Apple can start to offer every 3 months an iPad with faster processor and bigger hard drive. And to be clear, that Apple can keep up such high demand is only possible if they can get a lot of media hype when a new version comes out. Reducing the cycle to 6 or less months will not guaranty media hypes. Compare it with DELL or all other computer manufactures, they bring every three month a new version of their products on the market, but really no press cares. We might find info in special review websites, but there is no prime time press coverage. When was it the last time that CBS reported a new DELL computer in the evening news? You can't answer? Me neither, but I know since 2007 every new iPhone or iPad was in the big news.
If the rumors are right, then I am happy to save money. However if an iPad 3 is coming out this year, then it has better a faster processor, better cameras and retina display or I would be disappointed by Apple.
I believe in two years you can order the iPad online with not only the ability to choose provider and memory but as well to choose the processor and color of the iPad (not only white and black). I can see that we can choose between four processors and up to 256GB with eight frame colors. This would be awesome. The smallest iPad for $499 and up to $1299 for the really fast quad core processor and 256 GB memory.
The iPhone 5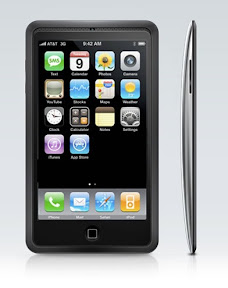 Rumors are out that the iPhone 5 release date will be later than previously expected, due to software that otherwise won't be ready.
The news comes from AllThingsD, and is at odds with earlier reports that indicated that the device would actually be available earlier, during September. Next generation iPhone rumors are pouring in these days, as we're getting closer to the launch of the device. That conflicts with a report from tech blog Gizmodo, which has passed along a supposed email from an AT&T employee claiming that employee vacation requests for late September have been denied. "Historically the only time they've done this was for an iPhone release," reads that email. "So we're looking at the last two weeks of September." "I don't know why AT&T's calling for all hands on deck those weeks, but it's not for an iPhone launch," one source said.
I tend to believe AllthingsD. But at the end is disappointing. Not only that we had to wait 18 months for a new iPhone but as well that the new iPhone will not have 4G.
Either way, Apple seems to be ready for a new iPhone. At least it looks like they are working on the redesign of the iPhone page. And accidentally showed a lot of text layered on each other.
The only selectable layer reads: "Only iPhone gives you one-tap access to the world's largest collection of mobile apps." Underneath the text layer, other fragments can be seen, such as "retina," ostensibly from the usual slide that rotates on the iPhone page. Found by the
iphone5newsblog.com
The question is, what will be different with the iPhone 5 than iPhone 4?. First of all it will hopefully have the A5 or A6 processor and a slightly bigger screen (4inch). The screen might not be wider but longer. The home button might be now integrated into the screen instead of being a button. Steve Jobs never liked buttons. Maybe it has (what I doubt) conducting charging like other phone built in. It might have an NFC chip and Stereo speakers. It is expected that the new iPhone can handle GSM and CDMA, to allow Apple to build only one iPhone. Most likely (as you can see on the image above) it might be thinner and not flat anymore. However I hope it does not change it's form factor, I am tired of buying all the time new accessories. Maybe (to be fancy) the iPhone has no buttons at all anymore and everything as the front, sides and back are touch screens. But this is very unlikely.
it seems that iPhone will not have yet 4G. Apple is testing LTE right now (rumors are saying) but if so, then there is no way it will have 4G in October. Apple would be done with testing in August when the first iPhone went onto the assembly line.
Not having 4G is the biggest disappointment for me. Because all other enhancement are ok but not really the hammer for selling. The only other reason besides 4G for me to switch to a new iPhone would be the processor. My iPhone 4 has already issues with simple games like Angry Birds. Many times the game slows down, of course one reason is the poor coding execution.
I have friends at ATT and Verizon and none of them does know what features the new iPhone will have and if screen or case will be different. And these guys are usually informed enough to know 2 months earlier what features their new phones in stock will have.
Regardless of features or form factor, the release day of the iPhone 5 will be exactly the same day iOS 5 comes out, there is no way that Apple would release one or the other first. Because iOS is perfectly build around the iPhone 5, this is for sure.
Regardless what the next iPhone 5 will be it is already a bit in China.
At least one online coupon website and more than 100 online shop owners on Taobao.com, China's biggest online auction website, have provided pre-order links online for the next generation of the iPhone (
source china.org.cn
)
Many Taobao sellers said they would start shipping the iPhone 5 between September 5 and September 7, which is around the time most industry insiders expect the smartphone to debut.
Most iPhone 5 for pre-order are being sold on Taobao from 4,000 yuan (US$625) to 7,000 yuan each.
Apple Inc, whose iPhone 4 and iPad tablets have wowed consumers around the world, declined to comment on the issue or the iPhone 5 release date.
Meituan, a Beijing-based Groupon-like website, announced that it will hold a lucky draw with the top prize being an iPhone 5. Users registering on the website or following the website on Sina Weibo will have the opportunity to win the iPhone 5, according to Meituan.
In July, Apple reported its China revenue grew six times in its fiscal third quarter ended on June 30 due to booming sales of iPhones and iPads.
- Posted using BlogPress from my iPad. Please follow me @schlotz69