A few years ago we went almost every day to a search website and searched for our name. The more results we got the more we did feel important.
As a hiring manager we searched the Internet for the person's name before we conducted an interview.
The last few years we tried to find the person on linkedin to see what connections this person has and where the person worked to get a better picture of candidate.
We found now new ways, since "social" got big. Depending on the job offer we want to see how much social influence these people have. And of course there are two apps for this (BTW I will in future refer websites with a lot of personalization and interaction as apps instead of website).
I tested http://www.peerindex.net and klout.com.
Klout.com:
Klout does compare your twitter and Facebook interaction with others and will generate a klout score. My score is 18, average user score is 12 and highest is 100 (like Justin Bieber)
Last week my score at klout was 10. This week it was already 18.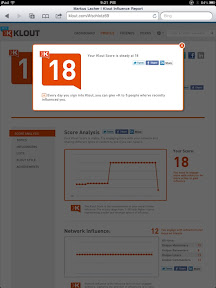 I did gain within one week 8 points, hurra.
The Klout Score is the measurement of your overall online influence. The scores range from 1 to 100 with higher scores representing a wider and stronger sphere of influence. Klout uses over 35 variables on Facebook and Twitter to measure True Reach, Amplification Probability, and Network Score.
True Reach is the size of your engaged audience and is based on those of your followers and friends who actively listen and react to your messages. Amplification Score is the likelihood that your messages will generate actions (retweets, @messages, likes and comments) and is on a scale of 1 to 100. Network score indicates how influential your engaged audience is and is also on a scale from 1 to 100. The Klout score is highly correlated to clicks, comments and retweets.
Klout does only use twitter and Facebook. PeerIndex is using more factors like linked and blogs.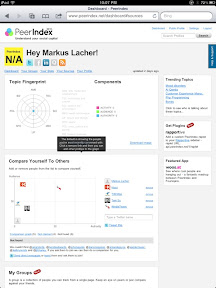 PeerIndex Score (from their website)
Your overall PeerIndex score is a relative measure of your online authority. This score reflects the impact of your online activities, and the extent to which you have built up social and reputational capital on the web.
At its heart PeerIndex addresses the fact that merely being popular (or having gamed the system) doesn't indicate authority. Instead we build up your authority finger print on a category-by-category level using eight benchmark topics.
Someone, however, cannot be authority without a receptive audience. We don't simply mean a large audience but one that listens and is receptive. To capture this aspect PeerIndex Rank includes the audience score we calculate for each profile.
Finally, we include the activity score so account for someone who is active has a greater share of attention of people interested in the topics they are interested in.
The average score at peerindex is 8, mine is N/A. I have peerIndex Since a few days but still no score which let me believe that they have a manual validation going on. A lot of people are complaining that their peerIndex is much lower than the klout index.
For both systems I seem not be relevant at all. I might not get hired, if I would want to apply for a social marketing job because of these two apps.
Klout has around 60 million profiles and peerIndex 45 million. Klout got so far $18 million in funding, but I did not find how much PeerIndex got.
But before you subscribe to these services you have to know that you need to allow them to connect with you through Facebook and twitter, which means go give them a lot of information about you.
They might offer us a good tool to see if we are social influencer but the real kick is that they collect data from multiple sources from you, they might be at the end better able to have targeted ads than Facebook.
peerindex does not work well with the iPad. They use some modal windows which are working horrible on the iPad. They are all over the place but not where you expect them. It took me a minute to find the drop down of matches when I tried to search for a twitter account. For some reason it was on top left instead under the search box. My screen got crazy, When I tried to tweet about it.
Both apps have no iPhone or iPad app, however there is a 3rd party app for klout.
Overall I am not sure how helpful either of both app is for me, I surely need to see the next weeks if I can change the score by doing different things in social. Maybe I need to follow Justin Bieber.
- Posted using BlogPress, please follow me on twitter @schlotz69