I am wondering why I am even writing about flash and iPad. Everybody knows there is no flash for the iPad, and there is no need neither in my opinion. I have the iPad now over a year and seldom thought I need flash. But I have as well to admit that I use my iPad different than my computer. I seldom surf websites, I mostly use my iPad for amazon, eBay, NYTimes (and other newspapers) and games. All these have iPad apps which I use. When I open websites then mostly they are without flash.
However there is one iPad app which claims to allow to play flash games and to surf on flash websites.
The app is iswifter and free for download on the app store (but not really free).
This is what the company says about them:
iSWiFTER is the industry's first cloud-based Flash game streaming service specifically built for mobile devices including smart phones and tablets, spanning mobile platforms such as Apple's iOS and Android. Low-cost servers in the cloud run abstraction software that intelligently converts browser-based Flash games to a form that is optimized for individual mobile devices, complete with multi-touch gesture support for game interaction, and accommodating different screen sizes. A client app connects to the gaming servers in the cloud to download streaming content live to the mobile device.
Here comes the reality. ISwifter is nothing more like a remote browsing through another computer like using LogMeIn to use your iPad to see your computer screen.
The difference is that you don't need to set up any connection you just start iswifter and after a while you see a web browser on your iPad.
ISwifter is free when you download it but only for 7 days after this it costs $2.99 for websites surfing with flash and $4.99 for flash games access.
The results of the browsing is poor. The resolution is just not good.
With iswifter:
With Safari on the iPad: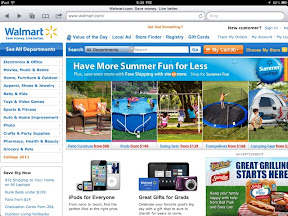 I could ignore that the image quality is not so good, but the speed and delay are horrible. And you can use the app only in landscape mode which is not my favorite display. I mostly hold it I'm portrait like a book.
I don't think any money is worth to spend on this app. I am not sure but I think the make of this paid app are the people who did before cloud browse which was free but not anymore available in the app store.
I believe the app will be soon not anymore available because the pay upgrade is against the Apple policy. It is not an in app payment which means Apple does not get a share.
It seems that some people still don't get that flash is not needed on the iPad. The consumer who is relying on flash games would either not buy an iPad or would move to games which are offered in the app store.
Moat of the websites have already an iPad friendly version (the big websites) which is flash free. Please save the money and use it for a newspaper or some music to download.
- Posted using BlogPress, please follow me on twitter @schlotz69