Today might have been one of the worst day in the Oracle history.
Multiple websites once operated by Sun Microsystems have been down for hours. Websites like openoffice.org and all projects under java.net have been not reachable.
Sun was acquired by Oracle Corporation for US$7.4 billion, based on an agreement signed on April 20, 2009.
Normally it is not the biggest issue when a website is down. But in case of Oracle it is a different situation. Oracle is an American multinational computer technology corporation that specializes in developing and marketing hardware systems and enterprise software products — particularly database management systems. Headquartered in Redwood Shores, California, United States and employing 105,000 people worldwide as of 1 July 2010 it has enlarged its share of the software market through organic growth and through a number of high-profile acquisitions. By 2007 Oracle had the third-largest software revenue, after Microsoft and IBM.
Being half a day down can cost Oracle millions because the reputation gets hurt.
A company like Oracle should have redundant systems in case main servers are going down.
I work at a much smaller company, but even we have all our servers not only in clusters but as well mirrored and constant backup. If main cluster falls out our redundant system will jump in within minutes and if they are going down, then we can boot up our backup system within 30 minutes. To ensure we will never have a down time, all three systems are in different physical locations.
What ever happened at Oracle, it did not seems that their Sun Microsystems platforms did follow such security measure.
It is interesting that only the Sun free products were down, which could tell us something much more. Maybe Oracle does not care so much anymore about free products like java or openoffice.org, but if so let people know.
In 2009 we had in average 30.000 java developers here in the states and the numbers this year will be still far over 20.000.
i am pretty sure companies like SAP (their systems are using java) and Google (Developers write primarily their Android apps in the Java language) are not happy about this outage.
Oracle is one of the four biggest CRM providers and offers like Salesforce.com SaaS model. Imagine you have a company with 2,000 sales people and your CRM is down for hours or even days and maybe some data got lost only because your SaaS provider went down?
Obviously this will not happen with Oracle CRM or other Oracle paid services. I was looking for comments from Oracle during and after the outage of oppenoffice.org but did not find anything.
Apache does own openoffice.org since three weeks (1 June 2011: In an announcement made today, Oracle has donated the OpenOffice.org project to the Apache Software Foundation. The proposal calls for OpenOffice.org to be established as an incubator project.), maybe Oracle did try to move the servers to Apache and this went into an outage, but then I am not sure why java.net was down.
The only info I saw from java.net was on top of the page a red banner with apology that netbeans, openoffice and kenai.com are down.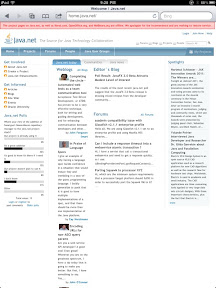 Netbeans.org down is pretty bad. I called Oracle, and actually I was in a 25 minutes waiting line to land at the end to a message saying that at the moment my call can't go through.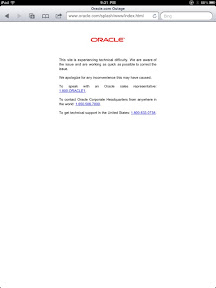 The second time I came through but got as an answer that the service will be shortly running again, with not comment on what happened. I explained that I am a paying oracle customer and that I am worried, but I guess, i am such a small customer that they don't care.
Oracle tag line might not be a good fit at the moment.
Asterix:
Engineered to work together as long it is not free.
Sorry java developers, you might need to face the future and move to .net or objective C.
- Posted using BlogPress, please follow me on twitter @schlotz69