The daily was long in production and had some delay, but is now available in the app store for download. The daily costs $0.99 per week or $40 a year. The first 2 weeks are free - sponsored by Verizon. Which is an irony because 3G version of the iPad does only work with ATT.
The magazine is taking a lot advantage of the iPad OS. You can rotate the iPad to see different content.
If you rotate the super bowl article you will get movies to watch which you would not see if you don't rotate.
When loading the app it connects to the Internet and loads the latest articles. The main page is a carrousel where you can swipe through all articles which are grouped by news, gossip, Opinion, Arts & Life, Apps and Games and Sports. I am missing technology and international, but I guess I am not really the audience.
The app allows you to save articles if you want to read them to a later point.
The app has a lot of interactive features. There are polls within to see instantly results or even live twitter feeds about the super bowl game.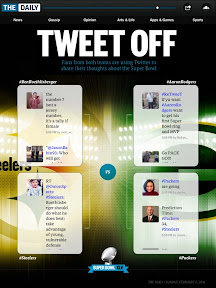 Even the weather is always up to date. Games like crossword and sudoko is in the app which counts the time how long you need to solve the crossword.
Overall there are many special effects and a lot of thoughts how to make the magazine more interactive. It is almost too much. The design is nice and easy to read.
However there is some weird things going on, sometimes you have to swipe from left to right to get to the next page, sometimes you swipe from top to down. I am still not clear when which approach is the correct one.
The app has a lot full page ads which are very interactive and informative and sometimes it is hard to tell if it is an ad or an article.
The amount of articles is limited, a lot of high resolution photos and videos, but not much to read. The best part is gossip. Apps and games are only featuring a few apps for the iPad or iPhone for direct download. I am not sure with the selection of the apps, it seems more likely that they are paid advertisement.
The app takes too long to load, especially if you have only 3G and no wifi. Unfortunately the app crashes often, at least twice a day for me.
The content is very load intensive, it takes sometimes 20 seconds to go from one page to another and the content page shows half of the time only a part. All videos are starting almost instantly when the page is finally loaded, but sometimes it takes up to 30 seconds till the video reaches best quality.
Not sure if i want to pay for it. It is great look and feel with a lot of cool features but the selection of articles is not my main interest.
It is no wonder that the daily has a low rating. People are rating it either as 5 stars or as 1 star. Either you like it or you don't. Many people are reporting to long load times and crashes, same problems I had.
I am disappointed that a magazine which had so much hype and support from Apple has such a low quality in terms of stability.
Please test it as long it is free, maybe you might like it.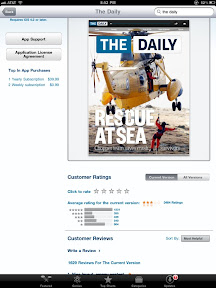 - Posted using BlogPress, please follow me on twitter @schlotz69