I updated my Mac OS today to get the new app store. The OS update did require a reboot and a positive side effect was that my exchange account is working again. This means email, contacts, calendar and Microsoft IM work again with my office exchange. The last update before which should have improve the exchange did break it.
I went ahead and opened the app store. It looks almost the same like on the iPad.
See left side of the image below.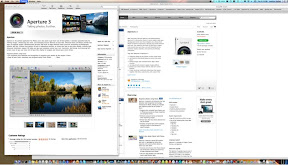 The app store has already 1000 of application and the most of them are apps we know from the mobile app store like Angry Birds. Angry birds got at the first day already 560 ratings, and if in average 10% do rate an app and the numbers are real then they had over 5000 downloads and a gross revenue of $25,000 minus 30%.
I went through and tried to count by ratings how many apps have been downloaded and put the numbers together. If I am not mistaken than Apple had at the first day over 80.000 downloads which an average price of $15. This is a revenue of $1.2 million for the first day and an estimated one year revenue of over $400 million in the first year, which would leave Apple at least $120 Million.
The mobile app store had last year a revenue of $2 Billion or around $600 Million for Apple.
The most applications like "the cat in the hat" are between $19.99 and $29.99. However I believe the apps which are as well available on the iPad have already the same price as for the iPad or will be soon the same price and not anymore higher. We can assume that most Apple Computer owner will have as well an iPad. Why should somebody buy a software on the Mac if the software like "the cat in the hat" just a fraction of the price available for the iPad.
A small icon in your dock appears with download status, when downloading an app. The app will automatically put in your dock when downloaded, no extra install needed. You can anytime delete the app from the dock.
I did not see yet free apps with iAds, but pretty sure it will come.
Some apps ( like Angry Birds) are in full screen mode, especially if they have been before available for the iPad, as Steve showed at the September keynote. If you have two screens the app will only run on main screen. The more expensive apps which are not available for the iPad are working like normal apps where you change screen size and the tools are their own windows.
We will see a lot of iPad apps coming to the Mac, because it is pretty simple for a developer to port an existing iPad app to the mac store.
Interesting to see that Apple developed apps are cheaper than as packed apps. Aperture costs only $79.99 instead of $199. Pages, keynote and numbers together only $59,97 instead of $79 if you would buy iWork from the shelf.
Apple is bidding on the long tail. They are offering blockbusters like pages, numbers and keynote to a low price with the hope the consumers will buy more of the apps which Apple has no costs but makes money of them (30% of retail).
The store offers a lot of free apps like twitter etc. This will attract many users. You can image that this new app store will bring more users to Apple for their PCs.
Apple sold so many iPhones, iPods touch and iPads, that consumers who already know how easy it is to install and buy software, will switch with their PC to Apple. It is just a logical step. I think the iMacs and MacBooks market will grow very fast in consumer niche to over 20%.
A very smart move. There has been always 3 big arguments why people did not buy Macs.
1. Price
This changed a little back, since Apple is not so much more expensive anymore. The MacBookAir starts under $1000, which is not much more than a Dell notebook with similar quality.
2. No apps available
Almost every major software is now available for Apple. And with the app store are soon more high quality inexpensive apps than for windows in one place.
3. Don't want to switch to new System
With worldwide over 100 Million iOS devices shipped, there are now many consumers who are firm with Apple and the new app store is basically the same as on the iPhone. Nothing new to learn.
To this three points are coming 3 other important aspects.
1.Apple has almost no virus and because the apps are sold under the complete control through Apple the risks of viruses will be even reduced as long the consumer only downloads apps from this store.
2. Kids will ask for Macs in the future with the argument that there are more educational software than for Windows computers. For parents it is almost a no brainer because the parental controls are much more sophisticated than for Windows.
3. Buy once and install as often as wanted on your computer. A big annoying part with Windows is, that anytime when we buy a new Windows computer, we have either to find the original software CD, remember the serial number or have to buy the software again.
Apple figured out that serial numbers are old school. For me it is the best invention ever that apps don't need anymore serial numbers, you just need to remember your apple ID. One ID for all programs.
Overall the app store is a great idea and a perfect marketing tool.
E-commerce made perfect. Apple has a big store where everybody can buy software, Apple does not need to create any product pages (because the developers are putting the info in) but at the same time controlling that only Apple approved products are getting bought.
Interesting is that there are no adobe products in the app store available. A good friend of mine believes because of Adobes price politic. Adobe is in Europe much more expensive than in the US and Apple philosophy is that the software price is everywhere in the world almost the same. Plus Adobe does not like that Apple (which is not a big Adobe promoter) would get 30% of their revenue.
We see if he is right, but his explanation does make sense for me.
- Posted using BlogPress from my iPad.
Please visit my blog http://www.new-kid-on-the-blog.com