We had on Friday a after work party at a new bar at the international mall. The bar just opened a few weeks ago. It is a Scottish bar called "The Pub".
It is a nice two levels bar and all employees are wearing kilts. I believe they offer around 30 different beers but no German beer.
The bar was packed and seems to be the latest hit.
The coolest part in the bar is that you don't interact with the waitress or bartender if you want to get beer. They are only there to take food or soft drink orders or to open you a tap.
The first time you want to order you are asked if you have an open tap, if not you have to give your credit card to the waiter ad he will come back with your credit card and a second card, which is your card to order beer.
At the east side wall, the Pub has around 15 Draught beers and on top, mounted to the wall, 4 framed iPads.
You hold the back of the card (which has a barcode) to the lower part of the iPad. The iPad attached RFID scanner (hidden in frame) will recognize the RFID and then the iPad is greeting you by name. You will have 20 seconds time to start to fill your glass with one of the beers in front of you.
You will see on the iPad how many ounces you took. Yes you pay per ounces. Their regular ounce price is 34 cents.
On the opposite side they have a big screen which shows how much an ounce costs and how well the beers are sold in ounces.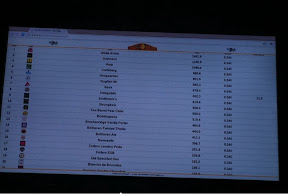 This is a pretty cool usage of the iPad. The waiters seem to have an iPod touch for taking orders. Which they use a special application to punch the order in and then scan the bar code of the card (I was told, can't confirm because i did not order food, i only ate from others plate :). And the food is actually pretty good, especially their home made potato chips).
The company which is offering this system might have seen a
blog
about a guy who did build something similar for his home.
The pub Tampa belongs to the
Tavern Restaurant Group
and is so new that it has not yet a website.
- Posted using BlogPress, please follow me on twitter @schlotz69