I have iPhones since the first generation came out. I never ever broke my screen, till now. After four weeks owning a white iPhone the unbelievable happened.
Beginning of this week I cracked my white iPhone screen. It was so bad broken that I decided to go to a place to get fixed instantly rather than ordering the parts online.
Buying the set on eBay would have been between $80 and $120 but I would need to wait at least 3 days.
I went first to Apple, they told me i would need to send it in and then get a replacement phone for $200. Then I called
the iPhone clinic
which has close to our office a store. They would charge $179 but the repair will be at the same day.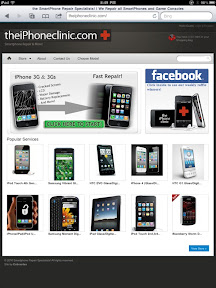 I still thought it is too expensive and so I binged around and found a phone place just a few miles away from my office. They said it would take an hour and costs $129. I thought this is a deal. I drove to them. I started to be a little suspicious when I got close to the store. It was not in the finest district of Tampa. But who cares if the phone is repaired. At the store they told me it will be $140 instead of $130 I complained and they agreed on the price. I had to fill out a paper like at the doctor. My name and address, iPhone type and a description of the issue (I guess a totally broken screen is not obviously).
And the paper (which I saw after I signed) stated that there is no warranty (iPhone clinic gives you three months). I gave them my phone and waited outside. It was like a comedy show. I might have been in the african American district and I have been the only white dude within 2 miles. I saw people fighting, singing, smoking pot, two car accidents and guys hitting in the most simplest way on overweight women.
Finally after an hour I got my iPhone back. It seemed to be ok. I tried to take my cover off to see if it is still my iPhone, but the store owner did not like it, he did not want that I break it in front of him.
I paid and left. The final price with tax was $129.42 but they charged my CC with $130. Not that I care paying al title too much but still it is 52 cents too much.
Before I left with my car, I changed all passwords, just in case. I am almost certain they have now all my private photos (over 2000) in their computer.
Arriving at home I had the feeling that the new screen is not as smooth at the edges as before. So I looked at my wife's iPhone and yes my screen is slightly different. But the biggest difference is the rectangle on top.
See my iPhone
Above the speaker is another rectangle and it has mesh in there (small squares). Below is an original screen.
The rectangle is clearly black and not like mine.
When you bing you will find that Apple original parts are around $110 and not original screens are $60
I basically paid for the work the same as I would have paid at the iPhone clinic, but I paid half for the materials.
I might have saved $60 but I did not. First of all the screen edges do feel off and second everybody can see (who has knowledge) that this is not the original screen, the white is even slightly different.
I am now debating with me, if I want to replace the screen at iPhone clinic, but for sure I am not going back to the store where I got it repaired, I am afraid they might shoot me, if I complain.
But even, if I don't replace the fake screen, I will still lose more money. In september the new iPhone is coming out and usually I sell my phone at eBay and make enough money to get the new one free. But this time I will for sure get less money because of the not original screen.
At the end I should have gone to Apple or iPhone clinic. Pay more but get more.
Repairing iPhone 4 screens seems to be a good business. The iPhone is so fragile that SquareTrade did find out, that it breaks 82% more often than the iPhone 3GS. Which makes sense because, it has twice as much glass.
Basically 15 million iPhone users will have an accident with their iPhone in the first year, which is a business of around $3 billion and of course growing, if Apple is not coming up with an other form factor or unbreakable glass.
SquareTrade
analyzed iPhone accidents for over 20,000 iPhone 4s covered by SquareTrade Care Plans and found a 82% increase in reported broken screens compared to the iPhone 3gs.
Highlights of the study include:
iPhone 4 owners reported 82% more damaged screens in the first 4 months compared to iPhone 3gs owners.
Overall, the reported accident rate for iPhone 4s was 68% higher than for the iPhone 3gs.
An estimated 15.5% of iPhone 4 owners will have an accident within a year of buying their phone.
Full report as
PDF
.
Unfortunately the iPhone 4 is the most fragile phone on the market , because of it's glass in the front and back. The best thing we should do is to buy a warranty. Squaretrade is offering and iPhone 2 years warranty for $99. Even if you have it only for one year it will pay off if you break the screen once.
You need to buy coverage through their iPhone app, if your iPhone is older than 30 days. The company gets really god rating and might be our best chance, especially if we have kids :).
- Posted using BlogPress, please follow me on twitter @schlotz69