It is unbelievable. Google plus is growing like weed. The NYT reported that google+ has now over 20million users and it is still by invitation only. And google is trying to male right and did close some celebrity accounts like the one from William Shattner (Star Trek) because they want to build a celebrity version of google+. even there has been already brand pages but they are shut down too, till Google figured out to handle it correct. Google+ gets many code updates right now, the last thing i saw was changes in the chat. I think it is a good idea to separate brand pages, celebrities and normal people if they can do it.
And then google bought
fridge
on 7/21 which should help to make circles even better than they are already.
And there are rumors that google is already working on games module but without the annoying game notifications.
Nice would be, if I could post on google plus from my google blog, sure it will come.
Google has a buzz this is clear. I already have more action going on on google than on FB.
On the other hand Facebook get bad ratings in user satisfaction.
A survey, compiled by ForeSee Results, polled approximately 70,000 consumers about the way they feel about various websites, search engines, and social networks.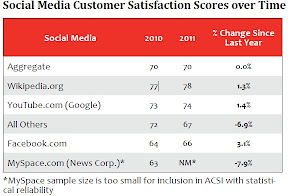 When compared to other social sites like YouTube, MySpace, and the conversation-driven Wikipedia, Facebook ranked dead last with a 66% customer satisfaction rate.
Facebook users don't like its iPhone app.
The social networking site planned to release an update to the app after more than 20,000 posted negative reviews on Apple's App store, the Financial Times reports.
One user called it the "most frustrating app on the market."
I have my issues as well. I am as an example not able to create groups in the app (or did not figured it out) and I am not able to change my app to one of my pages. I have two fan pages, but I am not able to switch to them and use their Identity in my FB app.
But FB has still 30 times more users than google+.
It is time for an iPhone app called foogle. An app where you can see your combined friends from google and FB and where you can post to both systems. An app where you can chat at the same time with a google+ friend and a FB friend. You would see both in one group chat but they would not see each other if they don't have foogle. This app would make the transition so easier. Right now I need to look in two networks because not all my friend are comverted.
Developers, I am waiting for the app. Please let me know when I can get it.
- Posted using BlogPress, please follow me on twitter @schlotz69