Today I decided to test in full google music with amazon cloud music.
To install amazon cloud player you download for your mac an installer and then run the installer. The whole installer inclusive icons looks like build from a Linux techie.
Amazon installs an app to upload files to the cloud and finds automatically your iTunes music folder which is in my case not on the local drive.But it does not let me choose from the beginning it just starts scanning. However you can stop and manually choose your folders. The upload app is simple but gives good information.
You can see how much GB is left and how much you would need to upload your songs.
Unfortunately the first version did not work well on the iPad. But the latest web version does work fine. but it takes a few seconds till a song is playing.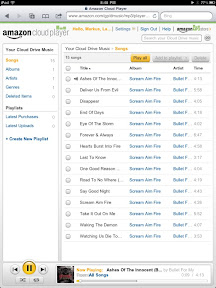 Amazon look and feel is simple and easy to understand. It has shuffle, playlist and preview of CD cover with title and lengths of the playing song. Uploading songs took about 30 seconds per song (I have a slow Internet connection).
Nice at Amazon is that they offer music to buy, when you buy you can choose to download the song or to move it in your music cloud.
Google music installer is much nicer on the mac than the amazon version.
When you download the DMG file it will unzip automatically and when it is done it asks you to drag an drop the app into application folder. Pretty easy the install.
The app settings are actually stored in System settings which makes it easier to access.
Google music will ask you, when you first start the uploader, if you want to use your iTunes library.
If yes it will scan your library, regardless if external or internal HD it finds the library. The scan is much faster than with amazon, but you are limited to 10.000 songs (just %25 of my songs). Google does upload files better in background than amazon and you have the option to automatically upload new iTunes music to google.
You get up to 1.000 free songs, when you first sign up for your google music account.
I selected to upload 10,000 songs to google (which is max) and after 14 hours I had just 1675 songs uploaded. This will take a while. But seems still faster than Amazon.
Playing the songs from google is as easy as with Amazon
However I like the google UI a little better. But Google has as well a few seconds delay before the first song starts. But Google does not sell music, you would still need to buy it amazon or iTunes.
Both services have androids apps but no iPhone or iPad app. But both work over browser on iOS devices which OS good.
Amazon is free up to 4.5GB, Google has 10,000 songs free (what if each song is 300 minutes, will it be still 10,0000?).
The third big music cloud player will be iCloud from Apple. But Apple will work slightly different by letting the user download first the song before it plays, to avoid streaming. We will see how this will work out.
Google is for me a good alternative at work, hence my iPhone has only limited songs on it. Hopefully Google will extend the memory to more songs, but on the other side it is a free service and 10.000 songs is a lot. However it is not more than the iPhone or other smartphones usually can hold. To get users to move their music in the cloud would help, if the data storage is unlimited or would exceed what we usually have on our phones.
Apple is promising that you pay once and then you can have as much as you want.
Amazon neither Google is upgrading your songs. The quality you upload the quality you get. With Apple you don't need to upload, they compare your song with their songs in the cloud which are always high quality. Therefore you get always the best quality. Of course there are songs which Apple does not offer in the US or even not available at all, these song you can upload into your iCloud account according to Apple.
- Posted using BlogPress, please follow me on twitter @schlotz69