Steve Jobs like to say that there is an app for this. And i thought, he might be right having over 50.000 iPad apps and 400.000 iPhone apps in the app store.
My wife and I planned a motorcycle trip for the upcoming 4th of July weekend. She did build a route together and told me, we should on the way buy a map.I said "can't we use our phone or iPad?". She said we could but where we go is most likely no cellphone reception.
Furthermore my wife asked me to find motorcycle shops on the way of our trip.
So I decided to look for a map app which can download maps to your iPad, in case there is no Internet connection. And a map which allows to build a round trip with 10 stop points.
I was hoping to find an app where I can plan the trip and then add points of interests.
The idea was that I can build the trip see the route then search for motorcycle shops or restaurant and would see the ones which are nearby the route.
Searching for maps gave me thousand of results.
GPS search still almost 2000 apps.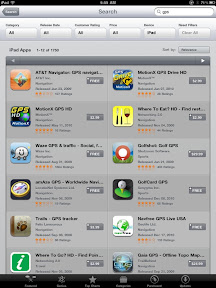 Searching for route planner much less.
But most of them are city maps, and only a few route planner. I found one which seemed the thing need. A route planner where I can put in multiple stops.
I found one app which was free and allowed to save the map and did not require GPS.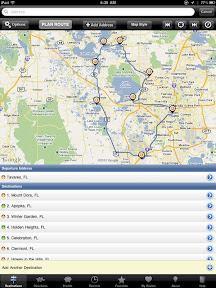 Route4me is easy to use, however I did not find how I could save my trip and it has no function to search for nearby restaurant or other Points of Interests after the route is defined.
This app like, all other routing or GPS app, have interesting rating. Each app has a few good ratings and a few really bad ratings but nothing between. And when I am reading the comments then always the complains are the same, bad UI or hard to understand how to use. A lot of people are missing same function as I was looking for.
The iPad could be such a great map replacement but for some reason no company has yet understood to build a good map. Of course you can find maps for your iPad but mostly for cities. And there are 16 route planners with GPS with partly a lot of functions (the expensive ones) but non which can what I was looking for.
I think it is not asked too much to have an app to plan your trip and then to search within the trip for POI.
As sales person it might be critical not only to plan the faster trip but as well to plan up front where to get gas or to stop to eat.
Maybe there is an app for Europe, I understand that in America we don't use so much the car for long distance and searching a restaurant is easy. Just go off highway and there are tons of restaurants from Mc Donald to Wendy's.
Non of the map or routing applications could connect or import from a CRM or outlook to get the addresses to plan the trip, this means the user has to do twice the work.
Steve,
I have been disappointed. I really thought your are right, that there is an app for it.
I did end up to buy me a paper map and we will stop at a bike shop when we see one. Just the old fashion way. Maybe riding a bike does not fit into high-tech.
- Posted using BlogPress, please follow me on twitter @schlotz69