Zynga filed on Friday IPO and in their
filing
are some interesting points.
Despite their high revenue in Q1 this year ($235 million) the net revenue is only $12 million. most of the costs went into R&D, cost of revenue (shares to FB) and Sales and Marketing. Zynga has 232 million active users and makes most of its money with virtual goods.
Reading through the filing makes it clear that Zynga's highest risk is the relationship to Facebook. Most players are playing through the Facebook platform and buying there virtual goods for Farmville etc. FB gets a 30% share of these virtual goods revenue.
Facebook is critical for Zynga and Zynga is critical for Facebook. The planned IPO ($1 billion) could help Zynga to build a stronger network outside from FB.
Zynga is less than four years old. Their first game on FB was poker. Since then Zynga did build games like Faemville and Fontierville. Mark Pincus (one of the Zynga founders) had founded three other companies before he started Zynga. The most famous one was tribe.net one of the first social networks. Zynga got from beginning $29 million in VC. Since then Zynga got hundreds of million of more VC and has been many months with their games on FB leading the top 10 apps on FB.
In July 2011 it had 3 games in the top 10.
In December 2010, Zynga did hold 6 of 10 top games see my
blog
.
In June 2009 only 2 games.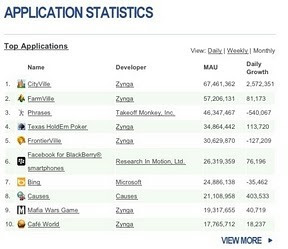 All images from allfacebook.com.
Zynga is still leading developer on FB but the MAUs (MAUs is the number of individuals who played a particular game during a 30-day period, as recorded by our internal analytics systems.) are declining.
And Zynga is not anymore in the top fast growing apps.
Is the filing maybe coming to late, where many people prefer to play angry birds or prefer to play outside of FB?
I don't think so, as long Zynga will work on building a network which can be without
FB and if Zynga is bringing out new games. Which might be not too hard. Zynga did acquire at least 11 companies in the last twelve months (XPD in Beijing, Challenge Games in Austin, Unoh Games in Tokyo, Conduit Labs in Boston, Dextrose AG in Frankfurt, Bonfire Studios in Dallas, Newtoy in McKinney, Texas; Flock team; Area/Code in New York, and Floodgate Entertainment, MarketZero).
Making most of the money with virtual goods is risky, it is just money from the consumer. But I believe VG will be even stronger and a part of our live in the future.
Zynga has now over 2000 employees which I believe is just ok, but they should not hire much more. I don't see really a need for more employees at a gaming platform or game producer. More people will water down the quality. Which means you need much more people to get to the same result as a few, which increases the costs extremely.
I still believe Zynga is a good buy and we all should consider to get some stocks. But if Zynga keeps staying so close connected to FB or is relying on FB and they don't come up with some more different types of games then we should sell within 12 months. Otherwise Zynga could have a chance to be the next Electronic Arts for social and mobile gaming.
- Posted using BlogPress, please follow me on twitter @schlotz69