I am an iPad user since April last year. I use it everyday, but mostly to read magazines and newspapers or to write my blog. I tried to replace my dell notebook
with my iPad but had no success.
On Wednesday I found another way to use the iPad, and it was great.
We had an important software upgrade going on. We are usually doing this at night to avoid interruption during business time. My developers will open a webex conference and share the screens that we can see what is going on. We leave the audio all the time on, if there are needed discussion. Back in time I went to my iMac or took my heavy MacBook Pro to do webex. This time my wife had the notebook and I could not use my iMac, because my son was sleeping in the next room to my office.
I decided to install webex on my iPad (free download). And it was great. I just needed to click on the link in the webex mail and the iPad opened the application. After I logged in, I could decide to use my iPad for voice or to call in. I decided to use my iPad. I plugged my headphones in and was ready.
The speed was great and quality perfect. At a certain point we were looking through error messages, but my iPad screen is too small to read the messages. I just took my two fingers and zoomed into the screen. This was awesome.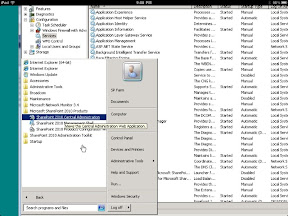 After a while a developer gave me control that I could put a password into one of our servers. It worked very well however it takes times to get used to the delay and small mouse pointer.
The only part which was missing, was the camera. It seems webex has already camera function available, but I was not able to activate it. On my mac it works just fine.
Webex on iPad is simple but effective. I learned that I will do webex in the future only with my iPad, especially if I don't need to be in control or don't need to share my screen.
Great would be if could use LogMeIn, to log in my notebook to show others my notebook screen, but then run webex from iPad to share the screen. Right now I would need to use LogMeIn on my iPad and then share webex from my remote computer.
If you need to walk sometimes around or don't want to carry a heavy notebook for webex, then the iPad it is. Our install took 4 hours and I did not need to charge my iPad, I still had 50% power left. This is something i would not have been able with the notebook.
Btw webex works equally good on the iPhone, but I think the screen is too small.
- Posted using BlogPress, please follow me on twitter @schlotz69