My sister was last week visiting us from Germany and told me an interesting story. Her son's grammar school received last yer from Apple 30 iPads just 6 weeks before Christmas.
Each class was allowed to have them for a week for testing. During this time the kids were allowed to take them home. Of course, parents had to pay an insurance on the iPad in case they would break. Each iPad had some learning software on it, as well some software to about our nature. She told me, the nature app had all kind of flowers and trees and the kids could use the app to identify vegetation in their backyard or in the nearby forest. Teachers even gave the kids some homework which involved the iPad.
Almost all kids asked their parent to get an iPad for Christmas. Some parents even bought iPads as a Christmas present. This is of course a critical situation, because many parents could not afford to buy an iPad (some of my nephews schoolmates parents are unemployed) or did not want to buy one, because they needed the money for other things, like a trip to the US.
The idea might be great to bring kids really early to such devices, but the execution was bad. The school might have gotten the iPads free, but there was no concept to avoid jealousy or even fights. I did hear that two kids did fight over an iPad which broke during the fight.
I remember, when I was young, that my father bought me at Walmart a pair of cheap jeans, everybody else had Wrangler. I was so embarrassed and started a fight with my father. The next time he bought for me unknown sneakers instead of Adidas. And again we got into a fight. As a child I could not understand how he could do it to me. I did not understand that having 5 children is very expensive. But the fights were only for things round $50 more or less. Eventually he gave up and bought me the more expensive clothes because he loved me, he loved me so much, that he rather bought me what I want and probably did not get new shoes for him, which he needed as a sales man.
Today we are talking about $500 and more for one iPad which is in many household half of the monthly income.
What did the school think? If they offer iPads (which is cool an surely a good learning device) why did they not buy them for the kids or offered them extremely discounted?
When I went to school, we had to have schoolbooks. We could either lent them from the school (if we were low on money) or we could buy them. My parents preferred to buy them, that I could write notes in the books. Otherwise I would needed to use a pencil and erase all the notes out, at the end of the school year, before returning the books. My parents paid every year $300 on books for me.
Maybe the school should offer iPads to lent with all necessary schoolbooks on it, or parents could decide to buy the iPad, if they prefer, but with a discount.
I am really disappointed from Apple and the local school that they did not think this through. Should the school not be better in this? Don't teacher go to university to learn how to do the right things?
And Apple, don't they make already enough money? Should they not know better? Or do they don't care about social problems, only to sell a few more iPads?
But Apple is pushing much more. Usually private TV channels have in their shows a lot of product placements, and if there are computers or phones then these are mostly Apple products.
Bow it goes even further. The public broadcasters have Apple products everywhere, even in the news. And this is very critical. The news should be neutral as possible and ZDF and ARD (the two big non private channels) have been the last 20 years the place where you wanted to watch really good news. They are so well established that we trust them and their opinions. A lot of people would buy an iPad only because the news anchor has one.
I watched the last few days ZDF and could not believe what i saw. The anchor of a 9/11 special was standing close to ground zero with an iPad on his table. An iPad which was powered off and not in use at all. Especially ridiculous was, that he had his notes written down on paper which was under the iPad on the table. I don't think there can be more obvious product placement like this. It could have been any other touch pad (slate) but he had attached the patented threefold iPad 2 cover, which does not exists for any other pad on the market.
And then I watched the news (heute) and the anchor there had a MacBook Pro, but at least they retouched the backside of the cover and took the Apple logo out. However it is still clear to see that this is an Apple (all major connections at the side like power cable etc). The notebook had no cables attached, that I doubt that it was even on. If the notebook is in use then the risk would be too high of empty battery during live broadcasting. And if it has been in use, why did the woman still read from paper?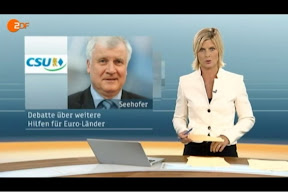 Below is an image from the apple store (it must have been an Apple in her news show). The right picture is almost identical to the one in the how above.

Apple frequently pays for product placement. This occurs because Apple "barters" the exchange for placement. Payment for placement is not in cash, but exchanged for product and services. (Notably, recognizable Apple products have appeared in newspaper comic strips, including Opus, Baby Blues, Non Sequitur, and FoxTrot, even though paid placement in comics is all but unknown.). I guess the whole ZDF studio is now under Apple branding.
Germany is more concerned than USA about their consumers that product placements was official not allowed till 2009.
Sine 2009, German commercial television broadcasters will be permitted to include paid product placements during TV films, series, sports programmes and light entertainment formats. With the move, the states are turning the EU audiovisual media services directive from 2007 into national law. For public broadcasters, however, product placement will remain prohibited.
This is the reason we don't see the Apple Logo on the notebook, or the iPad Apple logo. I believe ZDF is walking on a very thin line with their approach. Apple products are so distinctive that there is no logo required to recognize the products.
Apple product placements appeared 30 percent of the top films of 2010, more than any other brand, including Nike, Chevrolet and Ford, which all tied for second place with placement in 24 percent of the top movies.

Placement of Apple's Macs, iPhones and iPods and other products in films resulted in the company being cited for the "2010 Award for Overall Product Placement" by Brandcameo.

Arranging to put its products in conspicuous sight in films is nothing new for the company, which has maintained the top spot among brands over the past decade, with cameos in 112 of the top 334 most popular movies in America since 2001.
(source:
Appleinsider
)
I don't mind product placements but I am not a fan if a company does everything possible to get new customers, regardless if it could hurt feelings or even could cause social problems.
And i don't like, if institutions do show an Apple product, even if they are not allowed. Just taking the logo of is not enough. It is like driving a Mercedes and taking the star from the car, we would still know it is a Mercedes.
We will see how it will work out for Apple. Germans are known to buy the underdog and to avoid the big monopolist. The iPad has a big market share.
Apple already fall from 88% to 73% and in China even to 68%. And such pushing might get a negative effect for Apple.
Microsoft Internet Explorer had more trouble in Germany than everywhere else. Germans don't like monopoly and will choose the smaller company just because.
Internet Explorer has therefore a much smaller share in Germany than in the USA.
Statistics from
statcounter.com
- Posted using BlogPress from my iPad. Please follow me @schlotz69