According to a study by the
National Center for Health Statistics (NCHS)
, one out of every four American families does not own a landline phone. Instead, 25 percent of American households are only using mobile phones. Further reinforcing the primacy of mobile devices, the study found that 15 percent of families that do own landlines receive all or almost all calls through cell phones.
The study was carried out between July and December of 2009 and included information from more than 21,000 American families.
We are now in 2011 and the percentage of households without landline might be already close to 40%.
We still have a landline (VoIP) but only for my mother in law. We seldom use it. Most of our calls are done via our cellphones.
But my sister is a proof that we don't need anymore even a cellphone carrier.
My sister and her family are right now visiting us from Germany. They stayed 5 days at our house and then went on a sightseeing tour through Florida. We were trying to buy a prepaid SIM card for her iphone 3, before they went south to Key West. But we had no luck, nobody had just a prepaid card (it was Sunday and ATT not open). They had either offers to charge prepaid cards or to buy a phone with minutes but not just a SIM card with no contract.
Eventually we gave up and they went on their trip, with the hope to find a card in a store on the way. This was the goal.
After three days she called me on my cellphone to tell me she does not need a card. Every hotel, they went to, had free wifi and she uses her Skype account to make calls either to other Skype members or to landlines. She called a couple of times Germany over Skype for just 1.9 euro cent (2.3 us cent) a minute.
She is not a geek, she is far over 40 and everything but computer savvy. However she is very good in saving money (she is an accountant) and she used to Skype for many years. Therefore (after she figured out that free wifi is almost everywhere) she looked in the iPhone app store and found Skype. Bingo.
She told me she downloaded as well an app which finds for her free wifi. Guess what, the app is called "free wifi finder". And it seems pretty good. It is an already 2 years in the app store but works great.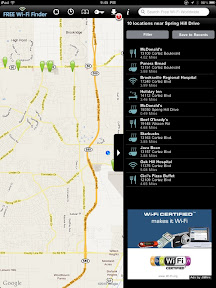 You even don't need to have wifi to find free wifi spots. You just need to download their DB to your iPhone or iPad.
My sister told me that they now scheduled their route around wifi hotspots like Panera Bread or McDonalds.
I was totally impressed, not that she does not really need a carrier to be still able to make phone calls, but how easy it was for her to do so.
Sure she is not all the time reachable, but do we really need to be? Landlines did not allow us to be reachable, when we have been not in our home.
She is absolute happy, because she is saving a lot of money. She made one call to Germany using roaming (before she had Skype on her phone). She paid $12 for three minutes. Can you imagine this?
Traveling with Skype can go even better. She could have her cell phone routed to her Skype account to receive free landline calls which are placed to her cellphone. Or she gets a Skype number that people could call her. And when she is in a wifi dead zone, which means Skype won't work, the calls would go to her voice mail. There is a price for this, but less than $10 a month.
She can do almost everything with Skype but no emergency calls. However the iPhone would let her make free emergency calls anyway.
My wife and I are paying $150 a month for two iPhones. This is for data, voice and SMS. We could save so much money, if we would have just 2 iPod touch.
Why do I need an expensive voice contract and data plan? When I am at home I have perfect fast wifi. I have wifi when I am in the office. I don't have wifi when I am driving my car to work and back. I don't have wifi when I meet friends to play golf. I don't have wifi when I am doing outside activities. But do I need to have a phone connection all the time? No.
Less than 10 years ago, we all were used calling somebody and this person might not answer the phone. When we have been lucky we got an answering machine.
Why do we need to be today 24/7 reachable? I don't think we need. But even if we don't need, we will in a few years again 24/7 available, because wifi will be everywhere.
Landlines lost the race against cell phones and I believe carriers will lose the race against wifi.
Maybe cell phones never go away (which I doubt), but at least we will see a dramatic drop in the costs in the next 24 months. Same as what happened with landlines.
In 2001 an average annual landline costs was around $700 in 2007 it was around $500, a drop of over 22%. On the other hand the annual cellular phone service did dribble from 2001 to 2007 to $600. In 2009 the average cell-phone user spent about $600 a year on mobile service, while families that talked, texted, or used other phone features more than average spent upward of $1,800. And the bigger the bill, the more get tapped for service taxes and surcharges, which tack on an average of 14.5 percent. Some people are saying that the current average cell phone bill is $81 per month ($972 a year).
And the cellular costs will even go more up. Maybe the voice part will go down but data 3G or 4G will get even more expensive. The average costs for data are Today $360 annually which I believe will go up around 40% Carriers are understanding that the consumer will use more data than voice minutes in the near future. But they understand as well that free wifi hotspots are a problem for them. Therefore they will try in the next year to get as much money as possible from their consumers before they (consumer) switch data off.
ATT and Verizon are so smart that they sell only certain smart phones with data plan. You are not able to get a voice only iPhone. I am not sure if this is even allowed. May e we should try to sue them.
My sister showed me that the non cell phone future is already presence.
And with the new iOS 5 is even SMS possible over wifi using iMessage.
I might try the test and will use for 4 weeks only an iPod touch as my phone.
- Posted using BlogPress from my iPad. Please follow me @schlotz69